THIS ARTICLE UNDER CONSTRUCTION
*****
****
***
**
*
Temecula Valley attorney, Lewis Khashan, is a veteran Southwest Riverside County criminal defense lawyer experienced in representing a broad range of property crimes, including theft, shoplifting, burglary and robbery.
Getting an Attorney Involved Early is you BEST Defense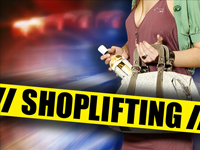 Local prosecutors have discretion when filing theft charges, which are misdemeanor petty theft if the property is valued at $400 or less for a first offense and can be treated as a "wobbler" and filed as either a felony or a misdemeanor for a first offense if the property has a value greater than $400. If you call a private criminal defense attorney IMMEDIATELY upon your arrest, before charges are ever filed, you might have a good shot at getting the charges reduced or even dismissed.
If charges have already been filed, a skilled negotiator can discuss your case, as your advocate, with the prosecutors to attempt the same good results: reduced charges or dismissal.
Don't Gamble your Fines, Incarceration and Probation on over-worked court-appointed attorneys
If you are facing a larceny or theft charge in Temecula, Murrieta, Hemet or the surrounding Southwest Riverside County, California areas avoid an overworked court-appointed attorney and hire a private property crimes lawyer who will invest the necessary time to negotiate the best possible outcome for your property crimes charges. Mr. Khashan offers a no charge, confidential initial appointment to discuss your case and present you a frank assessment of your current unfortunate predicament.
As a Riverside criminal defense attorney experienced in a wide range of theft cases, Temecula – Murrieta Property Crimes Lawyer Lewis Khashan represents clients for a variety of theft cases, including:
Burglary
Commercial Burglary
Larceny
Theft
Grand Theft
Motor vehicle theft
Arson
Shoplifting
Vandalism
A California theft related conviction can be particularly harmful in terms of gaining future employment, state licensing and other benefits. Although most theft convictions can eventually be expunged, they will still surface on background checks. Employers tend to shy away from applicants with theft records, fearing them to be dishonest and having the potential to steal from their companies.
Moreover, most California theft offenses are considered "crimes of moral turpitude." This means that state license boards often cite theft convictions as a reason to deny licenses and certifications, such as a contractors license, a nursing license or a real estate license. These convictions may also pose immigration consequences for immigrants seeking a visa, green card or naturalization to the United States.
Many Possible Defenses are Possible
Our first approach to every theft crimes case is to scrutinize the facts to see if the prosecutor really has enough evidence to prove you guilty beyond a reasonable doubt. If not, we can challenge the evidence in court and often get the case dropped or win a "not guilty" verdict at trial.
This is especially true in first offense theft cases, where the client has no record and just made a bad mistake. If you agree to repay the victim and to do a course of community service or theft counseling, often we can convince the D.A. or the court to drop the charges and spare the client the stigma of a permanent criminal record.
Hire the Best Private Criminal Defense Lawyer you can afford
Hiring the best private criminal defense lawyer you can will often determine where your life goes from here. Will you get punished for something you didn't do?  Will you end up with a harsher punishment than you deserve? We know that persons who settle for overworked public defenders will often receive harsher financial fines, longer incarcerations and probation than those who hire private criminal defense attorneys who spend the time necessary to get to know their clients and then fight vigorously on their behalf.
Reasonable Legal Fees
Experienced criminal defense should not be out-of-reach of average people. We offer our clients reasonable fees. Getting experienced and knowledgeable legal help should not put you in the poor house. Our fees are extremely reasonable. Additionally, we accept credit cards and on a case-by-case basis can even make payment plan arrangements when necessary. .
If you're looking for a criminal defense lawyer in the Temecula Valley who will passionately fight for your rights, protect your interests, and offer an expert advice to the predicament you find yourself entangled, you've found him.
Do you have questions about your case?
Please complete our Criminal Defense Case Evaluation Form for answers to your questions. For immediate assistance, call us today at (951) 225-4130 for a free, confidential consultation. Evening and weekend
appointments available.
OFFICE HOURS:
Monday – Friday 7:00 am to 11:00 pm.
TELEPHONE HOURS:
We attempt to connect you with an Criminal Defense Attorney 24/7 !
"Temecula - Murrieta Criminal Law Attorneys"
Contact Page & Map to Office
Payment Plans Available